The Bladder Diary helps your healthcare professional understand how much you are drinking and urinating to advise on the best treatment options.
The Bladder Diary has been developed by the International Continence Society (ICS), a UK-based charity with a global health focus, dedicated to improving the quality of life for people affected by urinary, bowel and pelvic floor disorders.
https://www.youtube.com/embed/b159hLzAuZA?autoplay=1&rel=0
See how filling in a Bladder Diary can aid diagnosis
https://www.youtube.com/embed/o-9bfzzz-lA?autoplay=1&rel=0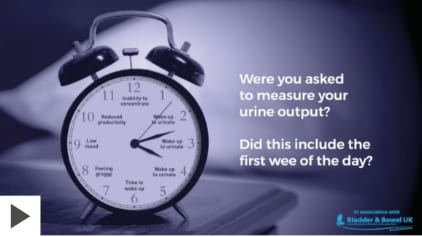 Sandra explains the importance of filling in a Bladder Diary correctly
Reclaim your night.
Re-energise your day.
Nocturia is usually easy to treat, so if your night-time bathroom trips are affecting your day to day life, it's time to talk to your healthcare professional. Together, you and they may be able to determine the cause of your Nocturia and decide on the best treatment option so that you can reclaim your nights and re-energise your days.
TALK TO YOUR DOCTOR TO DISCUSS YOUR SYMPTOMS AND TREATMENT OPTIONS